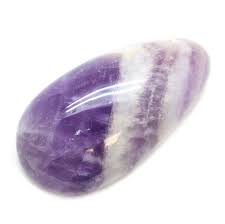 For thousands of years, the power of crystals have been used as tools to release  mental, physical, and spiritual blockages by allowing energy to flow freely throughout the body. We are naturally receptive on a cellular level to the vibrations of quartz crystals because we are made up of the same mineral, silicon-dioxide.  Crystals transmit, reflect, store light, and receive energy. 
Amethyst crystals are used during part of my Healing Touch Facial and sometimes in the Holistic Facial if needed. Amethyst has healing properties that help clear the mind of negative thoughts which cause stress and anxiety. When our vibration aligns with the vibration of amethyst, we feel more calm and relaxed, inflammation is reduced, and we have an overall feeling of well-being. When placed on the skin, amethyst at first feels cool and then becomes warmer as it absorbs the heat from the skin.  
Clients always come away from their facials feeling relaxed, renewed, and with a peaceful glow that comes from within!